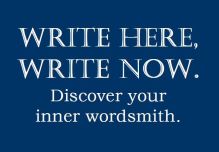 Fun and inspiring writing activities

Useful tips and ongoing support

Led by poet and tutor, Nalini Paul
Creative Writing Workshops
Have you always loved writing, but could never find the time to do it properly? Do you have reams of prose or poetry that you would like (finally) to share? Is creative writing something you've thought about, but never had the courage to try? If you can answer yes to any of these, then Write Here, Write Now is for you!
Weekly workshops are offered in eight-week blocks to writers of all abilities, with the support and advice of a highly experienced tutor.
The venue is upstairs at Bennu, in Glasgow's West End. Groups of no more than 10 ensure an excellent level of support for your writing in progress.
Do you have a novel you're working on, or a collection of short stories or poems? Find out more about our Reading and Editing services.